In the true spirit and tradition of troubadours of yore, John Wallace Morris has been around.  He's served the navy in times of war, travelled and lived abroad, and walked across the U.S. on foot.  Twice.  It's that traveling spirit and lust for experience that inspire him.  It's conveyed in his music; a blend of storytelling and emotive musicianship, with his own unique, finger-style instrumentation and deep, expressive vocals, that aims to invite the listener in.  His sound is as varied as his influences, but draws on the more classic sounds of folk and country.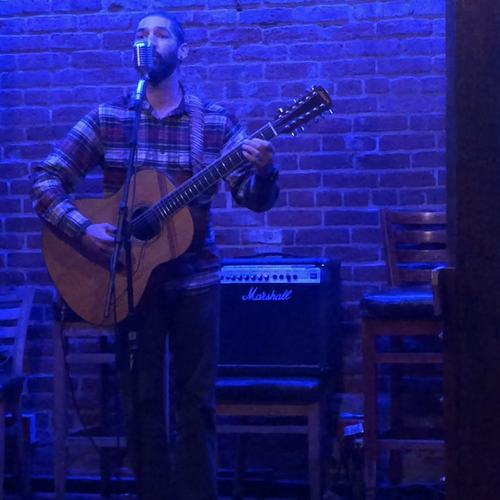 Fancy a song??
Downloading music to support J.W. is always encouraged, but if you'd rather toss some spare change in the tip jar, that's done here:
Enter the amount you wish to donate
Previous events
No cover, but reservations strongly encouraged!!
J.W. Morris, Live @ BOCO Cider!! No cover, but reservations encouraged
Come and get some live music in, and kick back with plenty of social-distancing and fresh air on the patio!
0:00/2:42

0:00/1:51

0:00/1:52

0:00/3:05

0:00/2:33

0:00/2:49

0:00/2:56

0:00/4:09

0:00/4:43

0:00/2:27
Into The Fold
J.W. Morris
This is a song I wrote and recorded in a day, a short while back, using a unique open tuning on my trusty Martin guitar.
Read more…
Bless Your Heart
J.W. Morris
A bluesy little 12 bar number of mine. All instruments besides the guitars were homemade, including my cigar box lap drum, penny-and-tomato can snare, and rebuilt foot tambourine.
Read more…
A bit of a fantastical dip on this one -- check out the video for it on YouTube, as I wanted a more dynamic video for this song, so I played with some photos at different points from my life, adding a halo of sorts. I hope you enjoy! Much love
Read more…
I recorded this one with my 1967 Guild Mark IV Classical guitar, mic'd up, and completely in my bedroom/recording studio, as always.
Read more…